Features of Elahiyeh neighborhood
Elahiyeh is an upper class neighborhood in Northern Tehran. You can find residential towers and upscale apartments in this modern neighborhood. This is where the newest buildings and many fashionable stores can be found. This area includes big gardens and mansions with eye catching architecture. In many people opinion, this area is one the best neighborhood in Tehran for living.
Geographical Location
There are many routes and highways in the surrounding of this neighborhood which make good access to this district. You have way to go to Elahiyeh from Modarres highway, Shariati street, Valiasr street and Tajrish square.
Main Streets and Squares
One of the most well-known streets in Elahiyeh is Freshteh street on the downside. It is also one of the most peaceful and the greenest part of northern Tehran with vast gardens, especially during a construction boom in the 1990s. On this street, there are modern restaurants and cozy cafes. Fereshteh street is one of the most well-known streets in Elahiyeh. The other important streets are:
Bosnia and Herzegovina St.

Agha Bozorgi St.

Chenaran St.

Takhti St

Dr Hesabi St.

Takhti Sq.

Agha Bozorgi Sq.
You can view Elahiyeh neighborhood in google maps.
Important Place
Iranian Art Museum Garden
Iranian Art Museum Garden is located in Elahiyeh with an area less than one hectare. Museum building was for Miss. Touran Mohajer Islami (wife of Lieutenant general Amir Ebrahimi) and was built in 1921.
Maquettes of historical monuments of Iran are put on show in this garden.
This place is a semi-public green space and art galleries and cafés along with the green space have provided a suitable place to spend leisure time and enjoy the nature and the good weather in Shemiran. The moquettes are very interesting for visitors, especially those who visit the garden for the first time. Holding temporary galleries of some artists in the complex of art gallery and educational-art workshops in recreation workshop has caused to gather many visitors in the garden. Meanwhile, the role of amphitheater hall cannot be neglected in these attractive citizens.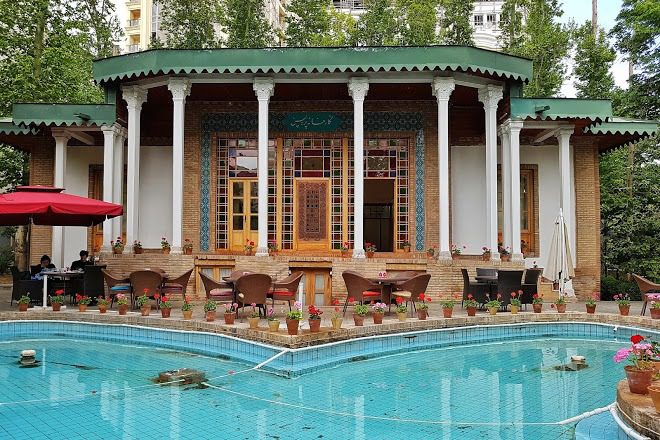 Dr. Hesabi Museum
Just a little bit after the death of doctor Hesabi (an Iranian nuclear physicist) in 1993, his house comes to be a museum in which his personal items, scientific & educational documents, Emblems, Acknowledgments, old photos, the text of speeches, writing has been exhibited inside it. His house is located in the place that in the past it was called Hesabi crossroad.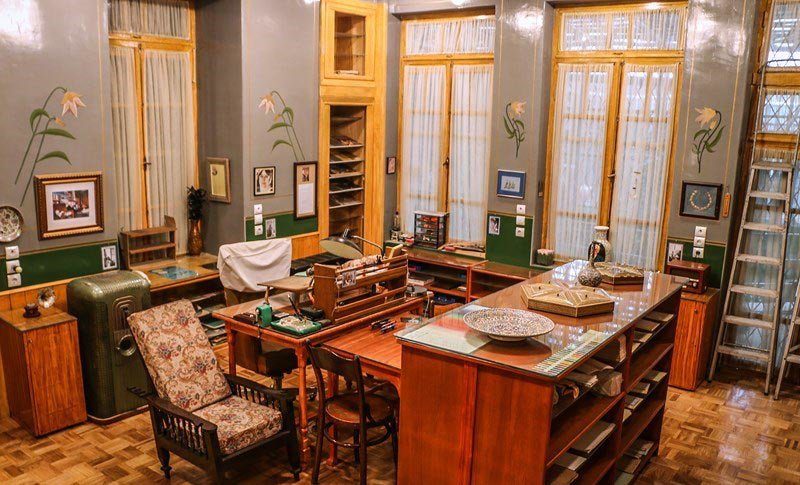 Museum of Music
Museum of Music is one of the fascinating museums in Tehran province with an area of 3650 meters in three stories which was opened in 2009. You will see an exhibition of artists' works such as instruments, audio and video archives and books. This building has been restored to be the place of the Museum of Music in 2003. Also, this museum is one of the prominent samples of Iranian house restoration.
Weather
It was perhaps the greenest part of northern Tehran as it was receiving most of mountain waters. The highest part of Elahiyeh had the most beautiful and scenic garden view in northern Tehran.
Elahiyeh is known as one of the most prosperous district in Tehran. The chief cause for that is its exceptional geographical location and marvelous weather quality. The distinctive feature of Elahiyeh district is that above the sea level, consequently the breeze of pristine air blows throughout Elahiyeh zone continually. The results of this breezing is the outgrowing numbers of cedar trees in the outline of streets in this part of Tehran. So if you interested in taking a walk, Elahiyeh is one of the best choice for you because you can enjoy old green trees & quiet streets.
Shopping Centers
Elahiyeh is compressed with various facilities. In this neighborhood you can find modern malls & shopping centers where are suitable for shopping and spending time. Some shopping centers have also food court, so you can eat the delicious food after your shopping. Some of the great Elahiyeh shopping malls and centers are:
Modern Elahiyeh ShoppingCenter

Sam Center

Elahiyeh Shopping Center

Namad Elahiyeh Complex

Fereshteh Shopping Center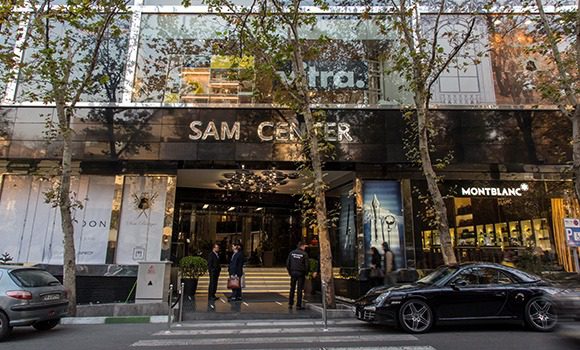 In this neighborhood you can find chic restaurant and cozy cafes where are suitable for gathering and enjoying free time. Some of the great Elahiyeh restaurants & cafes are:
Kassab Restaurant

Divan Persian Cuisine

Lime Cafe

Shandiz Fereshteh Restaurant

Ziafeh Cafe Restaurant

Addrress Food Hall
Public Transportation
The nearest metro stations to Elahiyeh are Sadr Metro Station & Qeytariyeh Station. The taxis in Shariati Street make access to this neighborhood easy.
Elahiyeh buildings special features
There are beautiful green trees in Elahiyeh neighborhood which cause to have a pleasant weather. If you want to see building architecture in Elahiyeh, you can find different type of them such as Modern, Iranian, European, Classic &… in this area which most of them have good facilities like Swimming pool, gym, Massage Spa, …. Some of the famous brand of buildings in Elahiyeh is Twin Towers, Chenaran Park, Chateau, to name a few that Pars Diplomatic real estate cooperates with the architects and engineers of these buildings. You can see different sizes of apartment in the area, from 70 Sq.m up to 1000 Sq.m, but most of them are around 200 Sq.m.
The rent prices of this apartments depend on size and quality are about 1500 USD to 12000 USD. For renting a villa it's even up to 30000 USD for some cases.
Who Elahiyeh neighborhood is suitable for renting apartment?
Elahiyeh has many high quality apartments, in different style and different architecture, furnished and semi furnished apartments and beautiful villas and besides the nice apartments of this quiet and beautiful neighborhood, it is very safe and has easy access to functional highways. It also has many modern shopping centers and restaurants. So because of mentioned features, Elahiyeh is very suitable for   foreigners and expatriates who work for international and foreign companies. And there is also the residence of many honorable ambassadors from different countries like German residence, Turkish residence and Belgium residence and also many embassies; therefore, it is suitable for diplomats and their families to live in. It also because of the gardens of the mentioned residences and the river has a good weather, so it is suitable for people who look for a place with good weather and quietness.
Pars Diplomatic real estate services for Elahiyeh neighborhood
Pars diplomatic has two offices, the central office is located in Zafaraniyeh and the 2nd one is situated in Elahiyeh, so Pars Diplomatic cover the whole neighborhood. Pars Diplomatic with more than 14 years of experience in working with expatriates and foreigners from different nationalities and also experience in working with famous and professional construction builders, give many professional services and consultation to both foreign clients and the builders and also owners.
Embassies or companies that are located in the area or those who look for high quality apartments, buildings, villas or offices can immediately contact us for best consulting service in the area.
Pars diplomatic experienced agents and consultants can give the foreigners the best consulting about neighborhood features and introduce them the best furnished or unfurnished apartments with the most reasonable prices. And they do on exactly according the clients requests.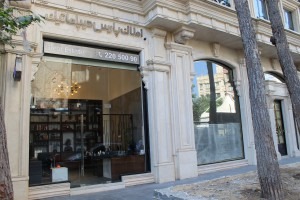 Recommended Links
Renting furnished apartment in Tehran
Renting apartment in Zafaraniyeh neighborhood, Tehran